For most visitors, Reykjavík is their first look at Iceland. And for our brand-new Rick Steves Iceland guidebook, I enjoyed getting acquainted with this pint-sized capital. This post kicks off my Iceland blog series — stay tuned for lots more. Special thanks to our co-author, Ian Watson, who taught Rick and me everything we know about Iceland.
Boarding my Icelandair flight in Oslo, I realize I'm about to fly east to west over the North Atlantic — a thousand miles across a frigid sea — to touch down in Iceland…just like those first Viking Age settlers, 11 centuries ago. My guidebook work with Rick Steves' Europe has taken me to more than 40 countries — but Iceland is a first. And I'm stoked.
On the plane, I enjoy reviewing the excellent work of our co-author, Ian Watson. A longtime Reykjavík resident, Ian's savvy insights embolden me to feel like an old pro before the plane comes to a full and complete stop. For the next three weeks, as I follow Ian's work around Iceland, I'll be hearing his voice in my head (soon to be followed by an army of Rick Steves guidebook readers).
Touching down on the petrified lava field at Keflavík Airport, I make my way to the baggage claim and find an ATM, pulling out about $300 worth of the colorful local krónur. As a rank novice in Iceland, I don't yet believe everything I've heard about how every transaction here — no matter how small — uses plastic. Flash forward a few weeks, and I'll be trying to unload these same krónur at every transaction. (On the bright side, blowing through $300 is a snap in Iceland.)
On the 45-minute drive into Reykjavík, our minibus driver regales his passengers with a steady monologue of Icelandic clichés. The gang's all here: "While you're in Iceland, you have to try the fermented shark!" "Icelanders believe in 'hidden people.' They even get clairvoyants to negotiate with the elves when building a new road!" "If you buy one thing in Iceland, make it a stuffed puffin. If you buy two things, you have to get an Icelandic sweater. It's expensive — but warm!"
With each cliché, I imagine our co-author Ian— who relishes debunking questionable "tour-guide history" and tourist-bait gimmicks — rolling his eyes vigorously. But our driver's enthusiasm is infectious. And I must admit, as a first-timer looking out the window at a lunar landscape of chunky lava rock blanketed with a gentle yellow-green moss…I'm more than willing to roll with it.
Soon we're driving through the mid-rise suburban sprawl of Reykjavík, then along the shore of the little lake called The Pond, and finally we pull up at the address of my Airbnb. I let myself in with the key code I was sent, and find the apartment just as I expected: spartan but comfortable, with a large living room and fully equipped kitchen. My Reykjavík pad costs about as much as a single room with shared bath in a guesthouse — a bargain in this notoriously expensive land.
I unpack hurriedly and splash some water on my face. But when I turn on the hot water, it comes out scalding and stinky. The faint sulfur odor reminds me that in Reykjavík, hot water is piped in directly from boreholes deep in the volcanic countryside. Like other tourists, burning myself is a rite of passage that I'll only do once. But, also like other tourists, I'll never quite get used to the smell. After a shower, the bathroom smells like the aftermath of a chili cook-off.
I dig around in my bag and pull on every layer I can find. It's early summer, and Oslo — where I woke up this morning — just endured its hottest May temperatures on record. Iceland is not so fortunate. Looking out my window, I see people wearing fashionable parkas with their fur-lined hoods pulled up tight.
Heading out to join them, I confirm my hopes that my apartment's location is ideal: Just two blocks from the historic center of Reykjavík, but buffeted by enough big buildings to keep the nightlife hubbub at bay.
And then, it happens — that moment I look forward to anytime I visit a new place. Looking around at the colorful houses, feeling the frigid breeze blowing off the nearby harbor, hearing the cry of seagulls, and surrounded by fellow travelers with fur-fringed faces, it hits me: Hey! I'm in Iceland!
I walk past a row of eye-pleasing old houses. Looking closer, I notice they're clad in corrugated metal painted in bright, cheery colors. Throughout Iceland, this siding is a popular choice: Durable enough to stand up to the howling wind and sideways rain, and convenient for a country with few trees or other natural building materials. Each windowpane comes with a smaller, inset sub-window, which is  almost always propped open. Reykjavík homes are heated with that same natural thermal water that just deep-fried my hands. It's cold out here, but toasty warm in there. And heating costs are low enough that, when it gets stuffy, the easiest solution is simply to crack a window.
I turn up Aðalstræti — Reykjavík's first street — for a peek at Iceland's parliament, the Alþingi (pronounced "all-thingy"). Icelanders are justifiably proud to have what's sometimes billed "the oldest parliament in the world" — which has survived, off and on, since the great clan gatherings of the Settlement Age (A.D. 930). Facing the Alþingi stands a statue of Jón Sigurðsson, who — a thousand years after those first settlers — advocated for full Icelandic independence from Denmark. (They finally got it, in 1943.)
Suddenly I recognize this square as the setting of news reports during the global economic crisis of 2008. When Iceland's bubble of false affluence burst and their economy collapsed, Icelanders turned out on this square to protest. Ultimately the government appointed special prosecutor Ólafur Þór Hauksson, a small-town cop-turned-international folk hero. His team convicted and imprisoned some two dozen bankers, who were held accountable for their greedy actions. (Imagine that.)
That 2008 crisis marked the first of several recent attention-grabbing events in Iceland. In 2010, the volcano called Eyjafjallajökull erupted, sending a great plume of ash over Europe that briefly halted air travel. Some Icelanders believe that the "E15" eruption reminded travelers about the existence of this fascinating, volcanic island nation in the North Atlantic. And that — combined with the popular "stopover" deals on Icelandair — boosted Iceland's brand as a tourist destination. Thanks to enthusiastic word of mouth and the power of Instagram, visits have grown exponentially over the last few years. And in 2016, for the first time, more Americans visited Iceland than the number of people who live in Iceland.
Circling back down to the main drag, Austurstræti, I notice a mass of construction cranes between here and the harbor. Reykjavík is taking advantage of its rebounding economy and tourist boom to undertake a "big dig" along its waterfront. Venturing toward the mess to explore, I stumble upon a parking lot with a hot dog stand, surrounded on three sides by ripped-up sidewalk and scaffolding.
Aha! It's Reykjavík's famous hot dog stand. When former president (and notorious junk-food connoisseur) Bill Clinton visited in 2004, he wound up having a hot dog right here, at Bæjarins Beztu Pylsur. Ever since, standing in line for a dog has become a must for many Reykjavík visitors. Not quite ready to spend 20 minutes waiting for a hot dog, I make a mental note to circle back later. (When I do, I discover that in Reykjavík, $6 buys you a pretty good, but in no way memorable, hot dog.)
Back on the main drag, I make my way across a busy street, then angle uphill. I soon find myself on Reykjavík's main walking, shopping, dining, and nightlife street: Laugavegur.
Low-key and slathered with street art, Laugavegur is an inviting place to simply wander and browse. I do just that, making a slow lap past tacky "puffin shops," microbrew pubs, inviting cafés, indie bookstores, heavenly bakeries, boutiques selling top-end Icelandic sweaters, thrift and vintage shops selling those same sweaters — gently used — for half-price, and lots of enticing restaurants.
As I walk, I appreciate the whimsical street art. Icelanders have learned that if you leave a wall blank, it'll be tagged with ugly graffiti. So instead, they commission murals by talented street artists. These help beautify the cityscape and deter taggers. Peeking down side-streets and noticing lots of vivid murals, I already know that exploring the back streets will be a highlight of my visit.
Reaching the end of Laugavegur, I pull a U-turn and head back the way I came. A colorful little blob on the top of a parking sign grabs my eye. Upon closer inspection, I see it's an action figure. Some mystery street artist — nicknamed "the Toyspreader" — sneaks around town gluing tiny toys to signs. Local authorities, correctly seeing this as a harmless citywide scavenger hunt, have decided to look the other way.
At the intersection with the steep, picturesque street called Skólavörðustígur, I look up to see Reykjavík's hill-capping landmark church, Hallgrímskirkja. I feel drawn there now, but I'm sure I'll have a chance to circle back later. Hallgrímskirkja's spire is the needle around which the record of Reykjavík spins.
I'm famished. I could grab a quick, "cheap" $15 bite at a fast-food stand. But this is my first night in Iceland — why not splurge? It's prime dining time, but I figure I'll take my chances at a high-end restaurant called Grillmarkaðurinn ("Grill Market").
Stepping inside, the whole place smells like charcoal and mesquite. It feels trendy, yet accessible. Periodically, a smoke-filled cloche is lifted theatrically off a dish, releasing another tantalizing puff of sweet smoke into the air.
I put on my best puppy-dog eyes and ask the host if they have any tables for one. "Do you have a reservation?" he asks in that stern way that usually means, "Ha!" But then, scanning the restaurant, he spots a lone place setting at the counter facing the kitchen. Just my luck. Sometimes being a solo traveler is a plus.
He seats me at a counter made from a split tree trunk, next to a Japanese hipster with a man bun poking out from under his furry hat. We exchange the courteous nod of two singletons who suddenly find themselves dining together, and I turn my attention to the menu.
Icelandic cuisine has a reputation for its oddball "hardship" foods — such as the notorious fermented shark, or the head of a lamb on a plate. But every single item on this menu sounds delicious. It's the perfect melding of international know-how and distinctly Icelandic ingredients — lamb, puffin, minke whale, humar (langoustine), rhubarb, skyr, licorice.
I place my order and enjoy watching the chefs scurry around the kitchen. I pull out my camera to photograph the sous chef blowtorch-searing a hunk of minke whale on its own little hibachi. My neighbor is also snapping a photo. To break the ice, we compare cameras. And soon, we're debriefing each other on our Iceland trips. Both of us are celebrating special occasions: I'm on my first night in Iceland, and he's on his last, after three weeks of camping and skiing his way around the country. He came from Tokyo, by way of Helsinki…and he has a long way to travel home tomorrow.
My order — a rack of Iceland's famously delicious lamb — arrives. it's incredibly tender and flavorful, with dipping sauces made of yogurt and rhubarb jam.
As the lamb melts in my mouth, I ask my fellow traveler what his favorite place in Iceland was. "I don't remember what it's called, but it's a very long name" he begins, quoting every traveler who's ever been to Iceland. He draws his hands apart as he says it, to emphasize just how staggeringly long the name is. "But it was a wonderful little town on a fjord on the north coast. You drive north from a large town along a fjord. You go through a very long tunnel. Then more fjord. And then you drive through a shorter tunnel. And that's where this town is." He pulls out his laptop to show me photos. He's skiing down a steep mountain with a little village in the distance, and the sun on the horizon…at 11:00 p.m. (Later I'll figure out which town he was talking about — Siglufjörður. And it's one of my favorites, too.)
We watch in silence as the chefs plate little creatures on chunks of rock and glassy lava. Soon my dessert comes: lemon meringue with salted licorice. I've learned that some people love licorice, and some people hate it. And those who love licorice, really love salted licorice. I adore it. I'm going to feel right at home in Iceland.
Bidding bon voyage to my dinner companion, I head back out into the chill of the evening. It's 10 p.m., but it's lighter outside than it was when I came into the restaurant. It dawns on me that I won't see real darkness until I fly home in three weeks.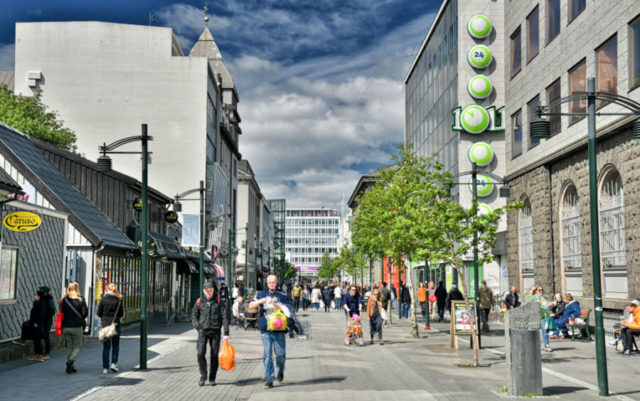 I waddle my way back up the main drag to my Airbnb. It's been a marvelous first evening in Iceland, but I need to get some rest. I have a very busy few weeks ahead of me. All tucked in, catching the faint whiff of sulfur on my just-washed face, it's hard to fall asleep. I love the adventure of being at the start of a journey in a new place. And for this traveler, Iceland is as new as they come.
---
This blog post is partly inspired by the "Welcome to Reykjavík" self-guided walk on page 68 of our Rick Steves Iceland guidebook (thanks again to co-author Ian Watson). Our book includes plenty of restaurant recommendations, including options more affordable than Grillmarkaðurinn (though if you're splurging, I stand by that choice).
Stay tuned for the next installment of my Iceland blog series, including a trip to the famous Blue Lagoon, as well as several simpler, less expensive thermal bathing opportunities around the country.